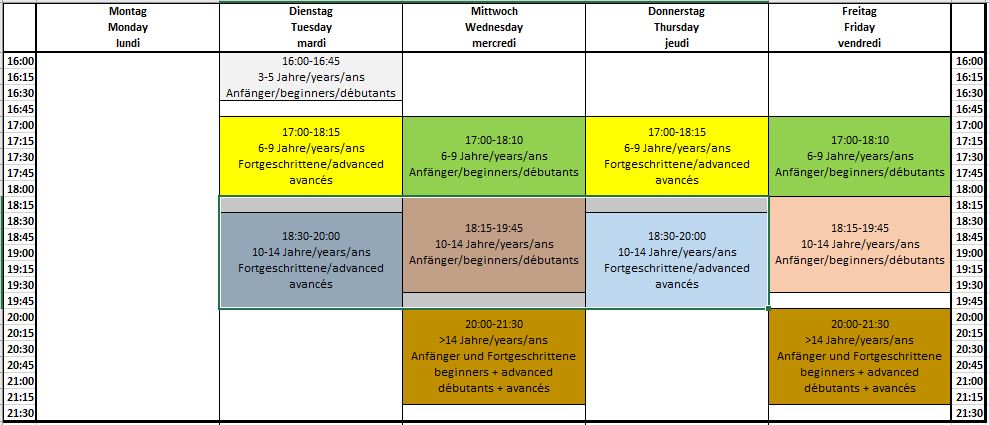 Judo im Judo Club Stroossen
Trainingseinheiten nach den Schulferien / Judo lessons after school holidays / Entrainement après des vacances scolaires
Liebe Eltern,
seit einem halben Jahr bestimmt das Corona-Virus unser Leben. Auch wir mussten Mitte März unser Trainingsbetrieb einstellen. Seit Juni bieten wir wieder Judotraining in reduzierter Form an. Um einen kleinen Ausgleich für das ausgefallene Training zu generieren, haben wir in den Sommerferien zweimal die Woche Training angeboten. Darüber hinaus haben wir zwei Trainingscamps (je 1 Woche) angeboten. Als weitere Entschädigung haben wir für jedes Mitglied, das vor Corona angemeldet war eine Judotasche mit Vereinsemblaim und Namen des Mitglieds gekauft. Diese wartet auf Euch, falls der Jahresbeitrag gezahlt ist.
Ab nächster Woche wollen wir wieder mit dem vollen Programm starten und planen unsere Trainingseinheiten wie folgt.
depuis six mois, le virus corona dirige nos vies. Nous avons également dû arrêter nos opérations de formation à la mi-mars. Depuis le mois de juin, nous proposons à nouveau un entraînement de judo sous forme réduite. Afin de générer une petite compensation pour la formation annulée, nous avons proposé une formation deux fois par semaine pendant les vacances d'été. En outre, nous avons proposé deux camps d'entraînement (d'une semaine chacun). En guise de compensation supplémentaire, nous avons acheté un sac de judo avec l'emblème du club et le nom du membre pour chaque membre qui était inscrit avant Corona. Celui-ci vous attendra si la cotisation annuelle est payée.
À partir de la semaine prochaine, nous voulons recommencer avec le programme complet et planifier nos sessions de formation comme suit.
for half a year now, the corona virus has dominated our lives. We also had to stop our training operations in mid-March. Since June we offer Judo training in reduced form again. In order to generate a small compensation for the cancelled training, we offered training twice a week during the summer holidays. In addition we offered two training camps (1 week each). As a further compensation we bought a judo bag with club emblem and name of the member for each member who was registered before Corona. This will be waiting for you when the annual fee is paid.
From next week we want to start again with the full programme and plan our training sessions as follows.