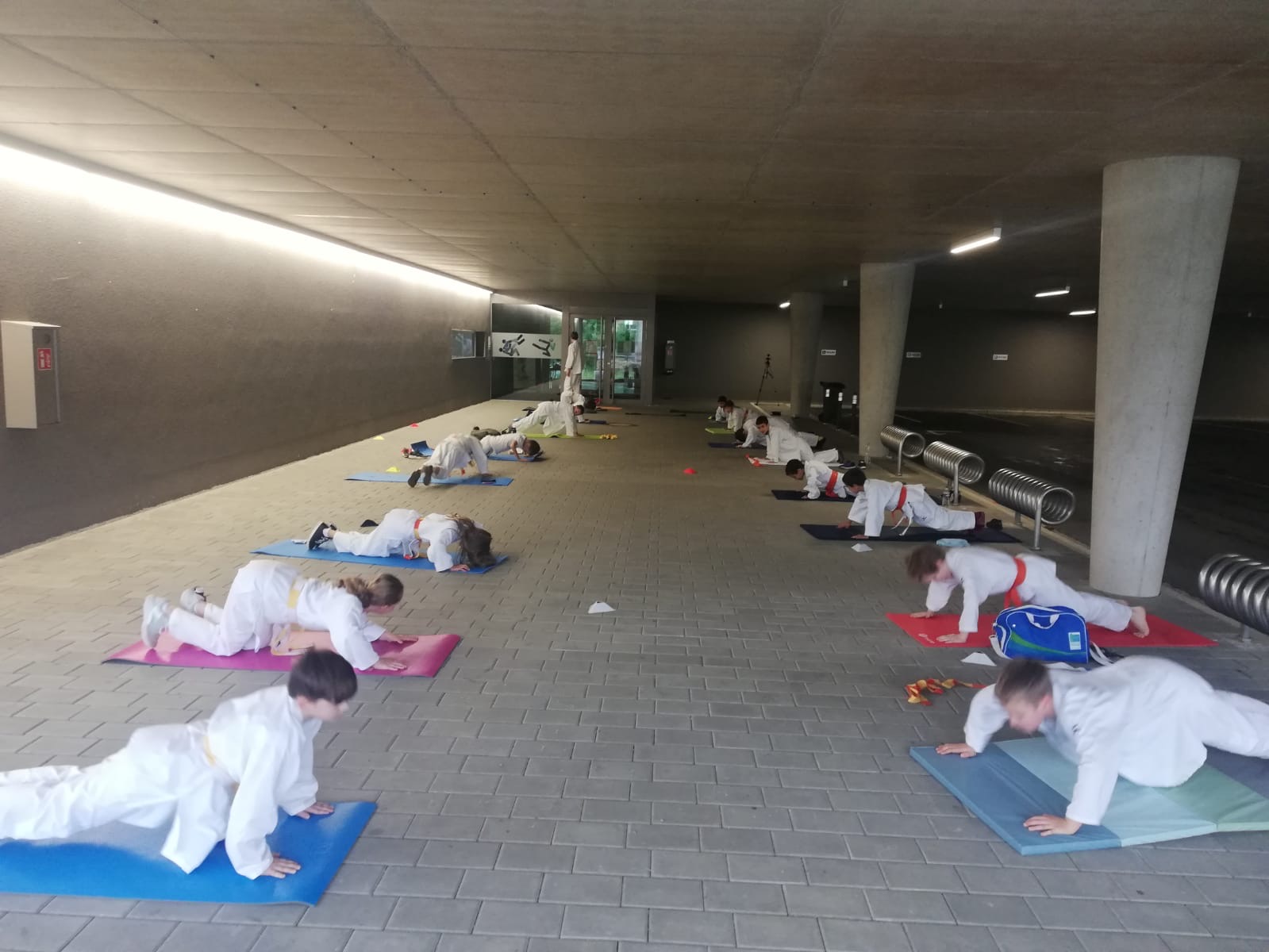 The hardest part is behind us ! Let's look forward !
Yesterday, Wednesday June 17, 2020, we finally met for the first joint session after the big coronavirus pandemic, which kept us apart for weeks!
What a pleasure!
What a pleasure it is to finally meet again, train, laugh and sweat together! Smiles and satisfaction were visible in everyone's faces and it is only the beginning of the resumption of our classes...
Indeed, yesterday no less than 30 members took part in our first two training sessions. All sanitary rules and recommendations for action were strictly respected (respect of the safety distance, maximum 20 participants per session, prohibition of contact etc.) and the session took place, despite the bad weather, outdoors, on the covered car parking of the "Hall National des Arts Martiaux" (HNAM) in Strassen.
Tomorrow, Friday 19 June 2020, the formula will remain the same. Two sessions will be offered on the HNAM covered parking lot: from 5:30 to 6:15 pm for 8 to 12 year olds and from 6:45 to 7:30 pm for participants over 12 years old.
We remind you that it is
imperative that you register for the classes by email to judofamily.franz@gmail.com
, bring a gym mat (or at least a towel as a support) and fill in and bring the questionnaire attached below.
Finally, excellent news:
starting next week, our dojo will be available again. We'll train again in the sportshall, on our usual judo mat! More information and details will follow as soon as possible!
___________
Gestern, am Mittwoch, den 17. Juni 2020, trafen wir uns endlich wieder zur ersten gemeinsamen Trainingseinheit nach der großen Coronavirus-Pandemie, die uns wochenlang getrennt hielt!
Welch eine Freude!
Was für ein Vergnügen sich wiederzusehen, gemeinsam zu trainieren, zu lachen und zu schwitzen! Lächeln und Zufriedenheit waren in den Gesichtern aller sichtbar, und es ist erst der Anfang der Wiederaufnahme unseres Trainings...
Tatsächlich haben gestern nicht weniger als 30 Mitglieder an unseren ersten beiden Trainingseinheiten teilgenommen. Alle sanitären Vorschriften und Handlungsempfehlungen wurden strikt eingehalten (Einhaltung des Sicherheitsabstandes, maximal 20 Teilnehmer pro Einheit, Kontaktverbot usw.) und das Training fand, trotz des schlechten Wetters, draußen auf dem überdachten Parkplatz der "Hall National des Arts Martiaux" (HNAM) in Strassen statt.
Morgen, am Freitag, den 19. Juni 2020, bleibt die Formel gleich. Auf dem überdachten Parkplatz des HNAM werden zwei Einheiten angeboten: von 17:30 bis 18:15 Uhr für 8- bis 12-Jährige und von 18:45 bis 19:30 Uhr alle Teilnehmer über 12 Jahre.
Wir erinnern Sie daran,
dass Sie sich unbedingt per E-Mail an judofamily.franz@gmail.com für den Kurs anmelden
, eine Gymnastikmatte (oder zumindest ein Handtuch als Unterlage) mitbringen und den unten angehängten Fragebogen ausfüllen und mitbringen müssen.
Zum Schluss, eine ausgezeichnete Nachricht: Ab nächster Woche wird unser Dojo wieder verfügbar sein. Wir werden wieder in der Sporthalle in Strassen, auf unserer gewohnten Judomatte, trainieren können! Weitere Informationen und Details folgen so bald wie möglich!

___________


Hier, le mercredi 17 juin 2020, nous nous sommes enfin retrouvés pour la première séance d'entraînement commune après la grosse pandémie du coronavirus, qui nous a éloignés pendant de longues semaines!
Quel plaisir de se retrouver, de s'entraîner, de rire et de transpirer ensemble! Le sourire et la satisfaction étaient visibles dans les visages de tous et ce n'est que le début de la reprise de nos cours...
En effet, hier pas moins de 30 membres ont pris part à nos deux premières séances. Toutes les règles sanitaires et recommandations d'action ont été respectées à la lettre (respect de la distance sécuritaire, maximum 20 participants par séance, interdiction de contact etc) et la séance a eu lieu, malgré le mauvais temps, en plein air, sur la parking couvert du "Hall National des Arts Martiaux" (HNAM) à Strassen.
Demain, vendredi 19 juin 2020, la formule restera la même. Deux séances seront proposées sur le parking couvert du HNAM: de 17:30 à 18:15 pour les 8 à 12 ans et de 18:45 à 19:30 pour les participants de plus de 12 ans.
Nous vous rappelons qu'
il faut impérativement s'inscrire au cours par courriel à judofamily.franz@gmail.com
, apporter un tapis de gymnastique (ou au moins une serviette de bain comme support) et remplir et apporter le questionnaire joint ci-dessous.
Finalement, excellente nouvelle: à partir de la semaine prochaine, notre dojo sera de nouveau à notre disposition. Nous nous ré-entraînerons donc en salle, sur notre tapis de judo habituel! Plus d'informations et de détails suivront dans les meilleurs délais!