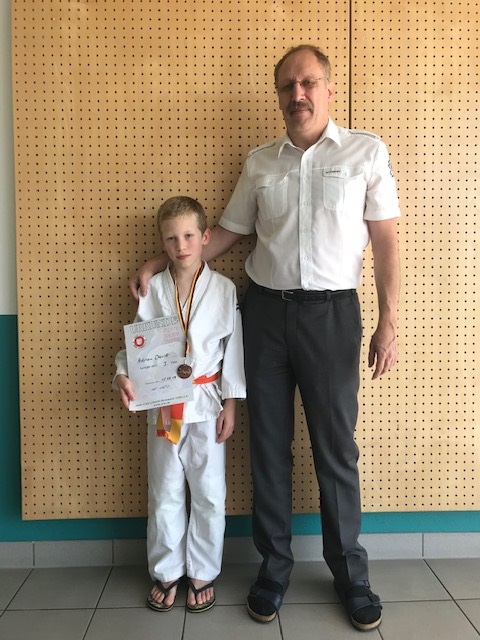 Starke Konkurrenz, viel Erfahrung und die Bronze-Medaille für Adrien Devitt
Adrien Devitt nahm als einziger Vertreter des JC Stroossen beim diesjährigen Jigoro-Kano-Turnier im saarländischen Lebach-Steinbach teil.



In seiner Gewichtsklasse hatte er es mit extrem starker Konkurrenz zu tun. Gleich drei Kader-Athleten des Saarländischen Judo-Bundes traten gegen ihn an.





Adrien, der mit seinen neun Jahren einer der jüngsten Teilnehmer war, kämpfte sehr stark mit zeigte sehr ansprechende Leistungen.





Gegen den zwei Jahre älteren Auswahlkämpfer des SJB Max Oesterwind, der bereits den grünen Gürtel trägt und am Ende auch ungeschlagen Erster wurde, war im ersten Kampf nichts zu gewinnen. Im zweiten Kampf siegte Adrien gegen seinen Gegner Liam Omlor aus Uchtelfangen ungefährdet. Der nächste Kampf war an Spannung nicht zu überbieten. Sein Gegner war ein weiterer Kaderkämpfer aus dem Saarland. Der ein Jahr ältere Marvin Zimmer vom AtV Dudweiler und Adrien Devitt lieferten sich einen ausgeglichenen Kampf. In den ersten zwei Minuten gab es einige Vorteile für den luxemburger Kämpfer. Leider kamen jedoch keine zählbaren Wertungen zustande. In der Verlängerung drehte sich das Blatt und Adrien musste sich nach knapp 4 Minuten einem Wurfangriff geschlagen geben. Im letzten Kampf musste Adrien gegen den dritten SJB-Kaderathleten Henry Mohr von Grügelborn antreten. Auch Henry ist zwei Jahre älter als Adrien. Adrien merkte man langsam die Strapazen des Turniers an und er musste sich nach kurzem Kampf geschlagen geben.





Was bleibt, ist die Erfahrung, dass er schon mit den älteren mithalten kann und der Gewinn der Bronze-Medaille.





Adrien Devitt était le seul représentant de JC Stroossen à participer au tournoi Jigoro Kano de cette année à Lebach-Steinbach, en Sarre.
Dans sa catégorie de poids, il a dû faire face à une concurrence extrêmement forte. Trois athlètes de la fédération de judo de la Sarre se sont affrontés.
Adrien, l'un des plus jeunes participants à l'âge de neuf ans, a très bien lutté avec des performances très attrayantes.
Il n'était pas possible de gagner lors du premier combat contre SJB Max Oesterwind, qui a deux ans de plus que l'autre, et qui porte déjà la ceinture verte et qui est resté invaincu le premier. Dans le deuxième combat, Adrien a vaincu son adversaire Liam Omlor d'Uchtelfangen en toute sécurité. Le combat suivant était imbattable. Son adversaire était un autre combattant de la Sarre. Marvin Zimmer, âgé de un an chez AtV Dudweiler et Adrien Devitt, se sont affrontés de manière équilibrée. Dans les deux premières minutes, il y avait quelques avantages pour le combattant luxembourgeois. Malheureusement, cependant, aucun score comptable ne s'est effondré. En prolongation, le jeu tournait et Adrien dut renoncer au jeu après un peu moins de 4 minutes. Lors du dernier combat, Adrien a dû affronter le troisième athlète du SJB, Henry Mohr von Grügelborn. Henry a également deux ans de plus qu'Adrien. Adrien a lentement remarqué les difficultés du tournoi et a dû abandonner après un court combat.
Ce qui reste, c'est l'expérience qu'il peut suivre avec les plus âgés et remporter la médaille de bronze.
Adrien Devitt was the only representative of JC Stroossen to participate in this year's Jigoro Kano tournament in Lebach-Steinbach, Saarland.
In his weight class, he had to deal with extremely strong competition. Three squad athletes of the Saarland judo federation competed against him.
Adrien, who was one of the youngest participants at the age of nine, struggled very well with very appealing performances.
It was not possible to win in the first fight against SJB Max Oesterwind, who is two years older than the other, and who already wears the green belt and ended up unbeaten first. In the second fight Adrien defeated his opponent Liam Omlor from Uchtelfangen safely. The next fight was unbeatable. His opponent was another squad fighter from the Saarland. The one year older Marvin Zimmer from AtV Dudweiler and Adrien Devitt fought a balanced fight. In the first two minutes, there were some advantages for the Luxembourg fighter. Unfortunately, however, no countable scores came off. In extra time, the game turned and Adrien had to give up a throwing stake after just under 4 minutes. In the last fight Adrien had to compete against the third SJB squad athlete Henry Mohr von Grügelborn. Henry is also two years older than Adrien. Adrien slowly noticed the hardships of the tournament and he had to give up after a short fight.
What remains is the experience that he can keep up with the older ones and winning the bronze medal.