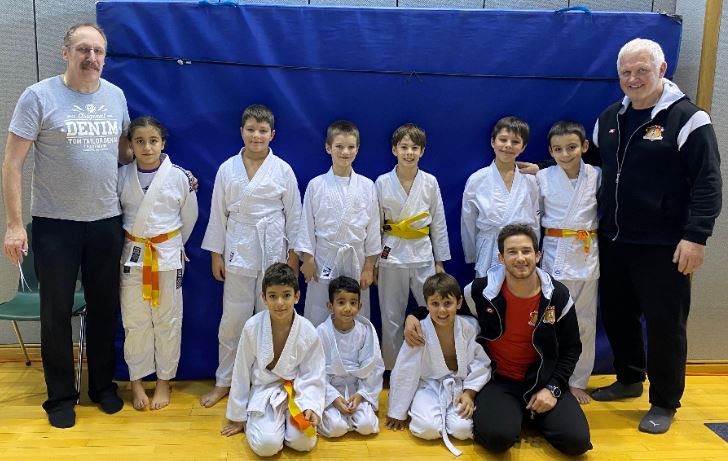 Judo Club Stroossen beim Mini Judo in Dudelange
Das gestrige Turnier Mini Judo in Dudelange war zum ersten Mal international besetzt und es waren fast 100 Judoka gekommen.

Ursprünglich war diese Turnier ein reines Anfängerturnier für die Kleinen. Gestern waren jedoch zum Teil sehr erfahrene Judoka aus Luxembourg, Deutschland und Frankreich am Start.

Die schon erfahrenen Strassener Starter konnten sich gegen ihre Konkurren durchsetzen. So gewannen Ioannis Saltavareas und Lou Salomé alle Kämpfe und sicherten sich hiermit die Goldmedaille. Ivan Gomez kämpfte ebenfalls sehr stark, musste sich aber im letzten Kampf knapp geschlagen geben und gewann somit die Silbermedaille.

Alle anderen Teilnehmer des Judo Club Stroossen traten zum ersten Mal bei einem Wettkampf an. Entsprechend groß war der Respekt. Dennoch zeigten sie gute Leistungen, mussten sich jedoch oft ihren erfahreneren Gegnern geschlagen geben. Rohan Jagannath war mit Abstand der leichteste Teilnehmer des Turniers. Er ging aktiv in die Kämpfe, war jedoch physisch unterlegen. Die Brüder Gugliemo und Giacomo Spreafico konnten gegen die viel stärkeren Judokämpfer nicht bestehen. Sie kämpften tapfer, aber unterlagen letztendlich. Vincent Gurskis, Gleb Vlasov, Philippe Halsdorf und Balazs Szabo konnten bei ihren Kämpfen einmal siegreich von der Matte gehen.

Für alle Teilnehmer bleibt die Erfahrung des Wettkampfs und das Ziel des weiteren Trainings um beim nächsten Mal die Fortschritte zu erleben.

___________


Yesterday's Mini Judo tournament in Dudelange was international for the first time and almost 100 judoka came.
This tournament was originally a beginner's tournament for the little ones. Yesterday, however, some very experienced judoka from Luxembourg, Germany and France started.
The already experienced Strassen starters were able to prevail against their opponents. Ioannis Saltavareas and Lou Salomé won all the fights and thereby secured the gold medal. Ivan Gomez also fought very hard, but had to admit defeat in the last fight and won the silver medal.
All other participants in the Judo Club Stroossen competed for the first time. The respect was correspondingly great. Nevertheless, they performed well, but often had to surrender to their more experienced opponents. Rohan Jagannath was by far the easiest participant in the tournament. He actively fought but was physically inferior. The brothers Gugliemo and Giacomo Spreafico could not stand against the much stronger judo fighters. They fought bravely, but ultimately lost. Vincent Gurskis, Gleb Vlasov, Philippe Halsdorf and Balazs Szabo were able to win one fight.
For all participants, the experience of the competition and the goal of further training remains to see the progress next time.
___________
Le tournoi de Mini Judo d'hier à Dudelange était international pour la première fois et près de 100 judokas sont venus.
Ce tournoi était à l'origine un tournoi pour débutants et les plus jeunes. Hier, cependant, de judokas nettement plus expérimentés du Luxembourg, de l'Allemagne et de la France y ont également pris part.
Les participants déjà expérimentés de Strassen ont pu s'imposer face à leurs concurrents. Ainsi Ioannis Saltavareas et Lou Salomé ont remporté tous leurs combats et ainsi décroché la médaille d'or. Ivan Gomez s'est également bien défendu, mais a dû admettre sa défaite lors du dernier combat et a remporté la médaille d'argent.
Tous les autres participants du Judo Club Stroossen ont participé à leur toute première compétition. Le respect était par conséquent d'autant plus grand. Ils ont bien travaillé, mais ont souvent dû admettre leur défaite face à des adversaires plus expérimentés. Rohan Jagannath était de loin le participant le plus facile du tournoi. Il a activement combattu mais était physiquement inférieur. Les frères Gugliemo et Giacomo Spreafico ne pouvaient pas résister à leurs adversaires plus puissants. Ils se sont battus courageusement, mais ont finalement perdu. Vincent Gurskis, Gleb Vlasov, Philippe Halsdorf et Balazs Szabo ont tous remporté un de leurs combats.
Pour tous les participants, l'expérience de la compétition a été bénéfique. Maintenat il reste à s'entraîner avec des objectifs clairs à l'entraînement pour voir une progression la prochaine fois.

___________

Das Ergebnis / the result / le resultat:

1. Platz
-31,6 kg   Ioannis Saltavareas
-43,5 kg   Salomé Lou

2. Platz 
-35,8 kg   Ivan Gomez
-48,1 kg   Balazs Szabo

3. Platz
-29,8 kg   Vincent Gurskis
-32,0 kg   Philippe Halsdorf
-34,2 kg   Gleb Vlasov

4. Platz
-17,7 kg   Rohan Jagannath
-28,3 kg   Guglielmo Spreafico
-32,9 kg   Giacomo Spreafico