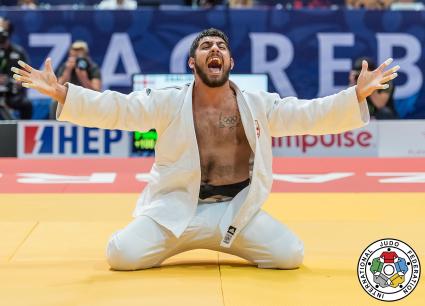 IMPORTANT NEWS: Classes resume on June 15!
Dear Judokas,
Dear members and parents,

After long weeks without training together, we have the very, very great pleasure to inform you that we will resume our sessions starting next week, June 15th. Indeed, the new health recommendations and government guidelines allow us to once again offer courses to our members, even though these courses will, of course, be adapted to the current situation (contactless classes, limited number of participants, meticulous respect of all health, safety and hygiene rules and recommendations). Not only will we respect these "general" governmental rules, but also the very specific recommendations for the practice of judo, recently issued by the Luxembourg Federation of Martial Arts (FLAM) and duly elaborated in very close cooperation with the Luxembourg Society of Sports Medicine and the Ministry of Sports (see amfong the attached files).
Concretely, regarding the resumption of judo courses as from next week, JC Stroossen cooperates closely with the Judo clubs of Mersch (Judo@Miersch) and Roeserbann (JC Roeserbann), in order to be able to offer sessions every weekday (Monday to Friday). All courses are open to all judokas of the three clubs (e.g. a Judoka from Strassen can train at the club of Mersch):


- in Strassen (covered car parking): Wednesdays and Fridays from 5.30 pm to 6.15 pm (8-12 years old) and from 6.45 pm to 7.30 pm (> 12 years old);
- in Mersch (Dojo): Tuesdays and Thursdays from 5.00 to 5.45 pm (8-10 years old), from 6.15 to 7.00 pm (11-12 years old) and from 7.30 to 8.30 pm (> 12 years old); 
- in Roeserbann (Dojo): Mondays and Thursdays from 6.00 pm to 6.45 pm and (if > 15 registered participants ) a second class from 7.15 pm to 8.15 pm.
All the details concerning the resumption of the courses in the 3 clubs (JC Stroossen, JC Roeserbann and Judo@Miersch) can be found below in 3 languages (German, French and English).
Please read this first attached document carefully, as it summarizes all the sanitary rules and recommendations to be observed during the courses, as well as the addresses of the training sites, needed training material, exact schedules etc.
Finally, we are also enclosing a questionnaire that you should fill out and bring with you for each session.
We would like to inform you that you must absolutely register for all courses
, at the latest the day before at 6:00 pm by email to
judofamily.franz@gmail.com
. 
We look forward to seeing you again next week! Best regards and sincere thanks,
Stefan, Tom & Franz
JC Stroossen
___________
Chers Judokas,
Chers membres et chers parents,
Après de longues semaines sans entraînements en commun, nous avons le très, très grand plaisir de vous informer que nous reprendrons nos séances à partir de la semaine prochaine, le 15 juin. En effet, les nouvelles recommandations sanitaires et directives gouvernementales nous permettent à nouveau de proposer des cours à nos membres, même si ces cours seront, évidemment, adaptés en fonction de la situation actuelle (cours sans contact, nombre limité de participants, respect minutieux de toutes les règles et recommandations sanitaires, sécuritaires et hygiéniques). Non seulement nous allons respecter ces règles gouvernementales "générales", mais également les recommandations très spécifiques à la pratique du judo, émises récemment par la Fédération Luxembourgeoise des Arts Martiaux (FLAM) et dûment élaborées en très étroite coopération avec la Société Luxembourgeoise de la Médecine des Sports et le Ministère des Sports (voir parmi les fichiers attachés ci-dessous).
Concrètement, en ce qui concerne la reprise des cours de judo à partir de la semaine prochaine, le JC Stroossen coopère étroitement avec les clubs de Judo de Mersch (Judo@Miersch) et de Roeserbann (JC Roeserbann), afin de pouvoir proposer des séances à tous les jours de semaine (du lundi au vendredi). Tous les cours sont ouverts à l'ensemble des judokas des trois clubs (ex: un Judoka de Strassen peut très bien aller s'entraîner au club de Mersch):


-
à Strassen
(parking couvert): les mercredis et vendredis de 17h30 à 18h15 (8-12 ans) et de 18h45 à 19h30 (> 12 ans);
-
à Mersch
(Dojo): les mardis et jeudis de 17h00 à 17h45 (8-10ans), de 18h15 à 19h00 (11-12 ans) et de 19h30 à 20h30 (> 12 ans); 
-
à Roeserbann
(Dojo): les lundis et jeudis de 18h00 à 18h45 et (si > 15 inscrits) un deuxième cours de 19h15 à 20h15.
Tous les détails concernant la reprise des cours dans les 3 clubs (JC Stroossen, JC Roeserbann et Judo@Miersch) se trouvent en annexe en 3 langues (allemand, français et anglais).
Nous vous prions de lire attentivement ce premier document attaché, étant donné qu'il résume toutes les règles et recommandations sanitaires à respecter lors des cours, ainsi que les adresses des sites d'entraînements, le matériel à apporter aux cours, les horaires etc.
Finalement, nous vous joignons également en annexe un questionnaire qui est à remplir et à apporter pour chaque séance et
nous vous informons qu'il faut absolument s'inscrire à tous les cours
, au plus tard la veille à 18h00 par courriel à
judofamily.franz@gmail.com
. 
Nous nous réjouissons d'ores et déjà de pouvoir vous revoir la semaine prochaine! Meilleures salutations et sincères remerciements,
Stefan, Tom & Franz
JC Stroossen
____________
Liebe Judokas,
Sehr geehrte Mitglieder und Eltern,
Nach langen Wochen ohne gemeinsames Training haben wir das sehr, sehr große Vergnügen, Ihnen mitzuteilen, dass
wir unsere Trainingseinheiten ab nächster Woche, dem 15. Juni, wieder aufnehmen werden

.
In der Tat erlauben uns die neuen Gesundheitsempfehlungen und Richtlinien der Regierung, unseren Mitgliedern wieder Kurse anzubieten, auch wenn diese Kurse natürlich an die aktuelle Situation angepasst werden (kontaktlose Trainingseinheiten, begrenzte Teilnehmerzahl, sorgfältige Einhaltung aller Gesundheits-, Sicherheits- und Hygienevorschriften und -empfehlungen). Wir werden nicht nur diese "allgemeinen" staatlichen Regeln respektieren, sondern auch die sehr spezifischen Empfehlungen für die Ausübung des Judosports, die kürzlich vom Luxemburger Kampfsportverband (FLAM) herausgegeben und in sehr enger Zusammenarbeit mit der Luxemburger Gesellschaft für Sportmedizin und dem Sportministerium ordnungsgemäß ausgearbeitet wurden (siehe unter den angehängten Dokumenten).
Konkret arbeitet der JC Stroossen im Hinblick auf die Wiederaufnahme der Judo-Trainingseinheiten ab nächster Woche eng mit den Judoklubs aus Mersch (Judo@Miersch) und Roeserbann (JC Roeserbann) zusammen, um an allen Wochentagen (Montag bis Freitag) Einheiten anbieten zu können. Alle Kurse sind für alle Judokas der drei Vereine offen (z.B. kann ein Judoka aus Strassen im Merscher Verein trainieren):


-
in Strassen
(überdachter Parkplatz): Mittwochs und Freitags von 17.30 bis 18.15 Uhr (8-12 Jahre) und von 18.45 bis 19.30 Uhr (> 12 Jahre);
-
in Mersch
(Dojo): Dienstags und Donnerstags von 17:00 bis 17:45 Uhr (8-10 Jahre), von 18:15 bis 19:00 Uhr (11-12 Jahre) und von 19:30 bis 20:30 Uhr (> 12 Jahre); 
-
in Roeserbann
(Dojo): Montags und Donnerstags von 18.00 bis 18.45 Uhr und (falls > 15 angemeldete Teilnehmer) eine zweite Einheit von 19.15 bis 20.15 Uhr.
Alle Details zur Wiederaufnahme der Kurse in den 3 Vereinen (JC Stroossen, JC Roeserbann und Judo@Miersch) finden Sie im Anhang in 3 Sprachen (Deutsch, Französisch und Englisch).
Bitte lesen Sie dieses erste angehängte Dokument sorgfältig durch, da es alle sanitären Regeln und Empfehlungen, die während der Trainingseinheiten zu beachten sind, sowie die Adressen der Trainingsorten, benötigtes Material, Zeitpläne usw.
zusammenfasst und erklärt
. Schließlich legen wir auch einen Fragebogen bei, den Sie für jede Einheit ausfüllen und mitbringen sollen.
Wir möchten Sie darauf hinweisen, dass Sie sich unbedingt für alle Kurse anmelden müssen
, spätestens am Vortag um 18.00 Uhr per E-Mail an
judofamily.franz@gmail.com
. 
Wir freuen uns auf ein Wiedersehen in der nächsten Woche! Viele Grüße und herzlichen Dank,
Stefan, Tom & Franz
JC Stroossen