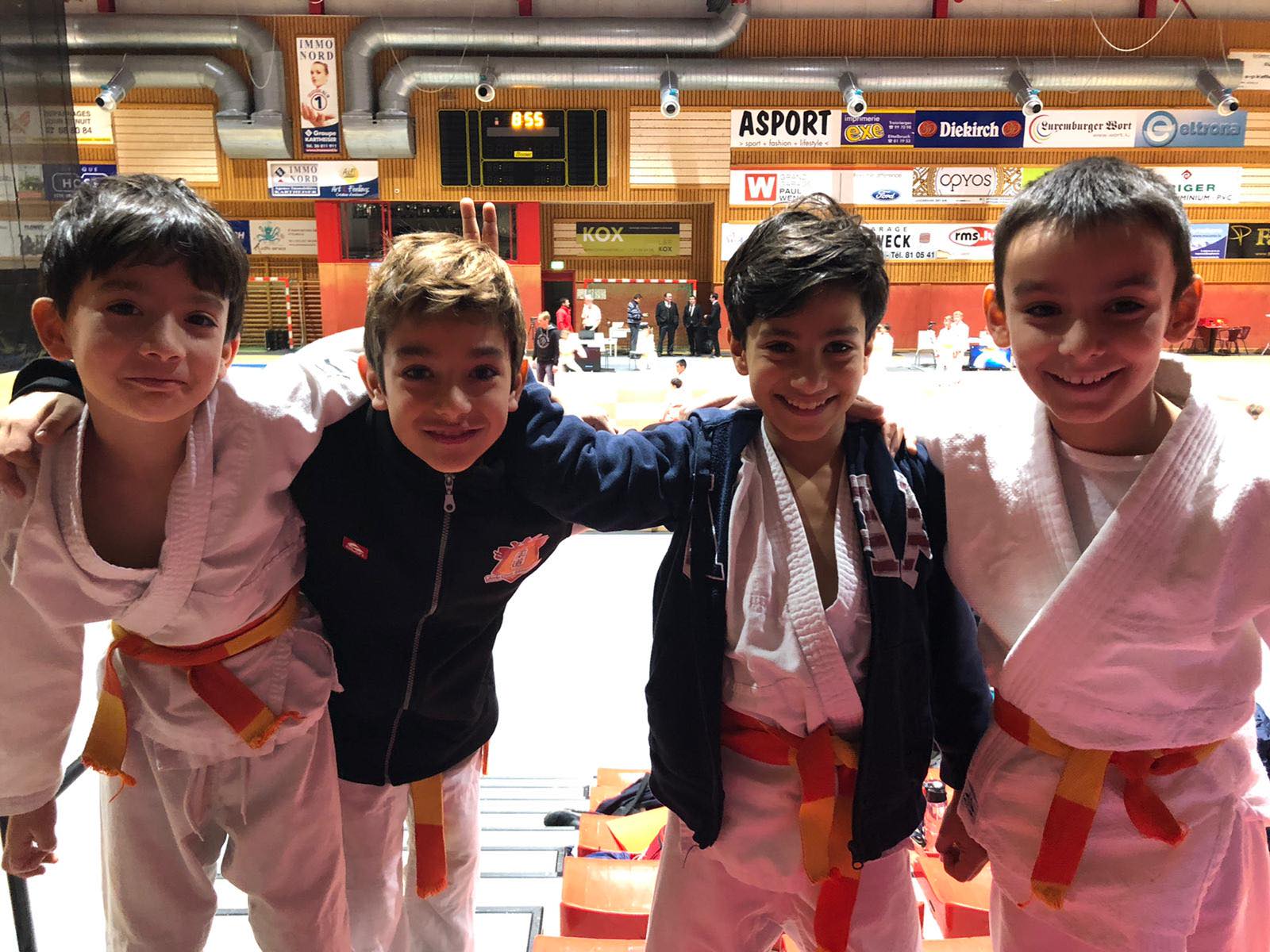 7 Goldmedailen um internationalen Turnéier zu Ettelbréck!
De Judo Club Stroossen huet den 16. November 2019 mat insgesamt 12 Athleten um internationalen Judo Turnéier zu Ettelbréck Deel geholl. Insgesamt dierfen d'Stroossener Kanner sech iwwer 10 Medailen freeën, dorënner gläich 7 aus Gold!

Gecoacht an betreit vum Stefan Mautes, Franz Kofler an Tom Schmit, hunn all eis Kanner bewisen, dass si mat der deelweis staarke internationaler Konkurrenz mathale kënnen. Bei der U9 (Kanner manner wéi 9 Joer) huet den JC Stroossen souguer mat nëmmen 4 Kanner 4x Gold geholl. Insgesamt hunn d'Stroossener Kanner 24 vun hiren 32 Kämpf vir sech entscheed! Eng super Leeschtung!

Den detailléierten Bericht an d'Medailegewënner, fannt Dir hei drënner. Felicitatiounen u jiddereen!
__________

Le JC Stroossen a participé le 16 novembre 2019 au tournoi international d'Ettelbruck avec 12 enfants. Ceux-ci se sont illustrés de la meilleure des manières en remportant 10 médailles en tout, dont 7 en or!

Coachés et encadrés par Stefan Mautes, Franz Kofler et Tom Schmit, les 12 représentants du club ont montré qu'ils n'avaient rien à envier à la forte concurrence internationale. Dans la catégorie d'âge U9 (enfants -9ans), les 4 enfants du club ont même réussi à décrocher 4 médailles d'or. Au total, l'on peut se réjouir d'un bilan de 24 victoires en 32 rencontres! Quelle belle performance!

Veuillez trouver le bilan détaillé et le nom de nos médaillés ci-dessous. Félicitations à tous!
___________


On 16 November 2019, the JC Stroossen participated in the international tournament of Ettelbruck with 12 children. They distinguished themselves in the best way by winning 10 medals in all, including 7 in gold!
Coached by Stefan Mautes, Franz Kofler and Tom Schmit, the 12 representatives of the club showed that they could compete the strong international opponents. In the age group U9 (children -9 years old), our 4 children even managed to win 4 gold medals. All in all, we can look back on 24 wins in 32 fights! What a great performance!
Please find the detailed balance and the names of our medalists below. Congratulations to all!
___________

Am 16. November 2019 nahm der JC Stroossen mit 12 Kindern am internationalen Turnier in Ettelbrück teil. Mit 10 Medaillen, davon gleich 7 aus Gold, zeigten sich Alle von ihrer besten Seite!

Gecoacht und betreut von Stefan Mautes, Franz Kofler und Tom Schmit zeigten die 12 Vertreter des Vereins, dass sie mit der starken internationalen Konkurrenz mithalten können. In der Altersklasse der U9 (Kinder unter 9 Jahren) konnten die 4 Kinder des Clubs sogar 4 Goldmedaillen gewinnen. Alles in allem könnte der JC Stroossen 24 Siege in 32 Kämpfen verbuchen! Was für eine tolle Leistung!

Anbei finden Sie die detaillierte Bilanz und die Namen unserer Medaillengewinner. Herzlichen Glückwunsch an alle!

__________

W=Won
L=Lost

U9:
Raphael SOUTO: W-W-W: 1. place between 4 participants
Ioannis SALTAVAREAS: W-W: 1./3
Nathanael SOUTO: W-W-W: 1./4
Ivan GOMES: W-W-W: 1./4

U11:
Adrien DEVITT: L-W-W: 2./4
Alnair RAHKMETOV: L- stopped because of an injury
Joséphine ROLL: W-W-L: 3./4
James BARWISE: W-W-W: 1./4
Alaric NOIROT: W-W-W: 1./4

U13:
Georgii SERGEEV: W-W-W: 1./4
Piotr TRZEPACZ: L-L-L: 4./4

U15:
Joao Afonso LIMA: L-L: 3./3