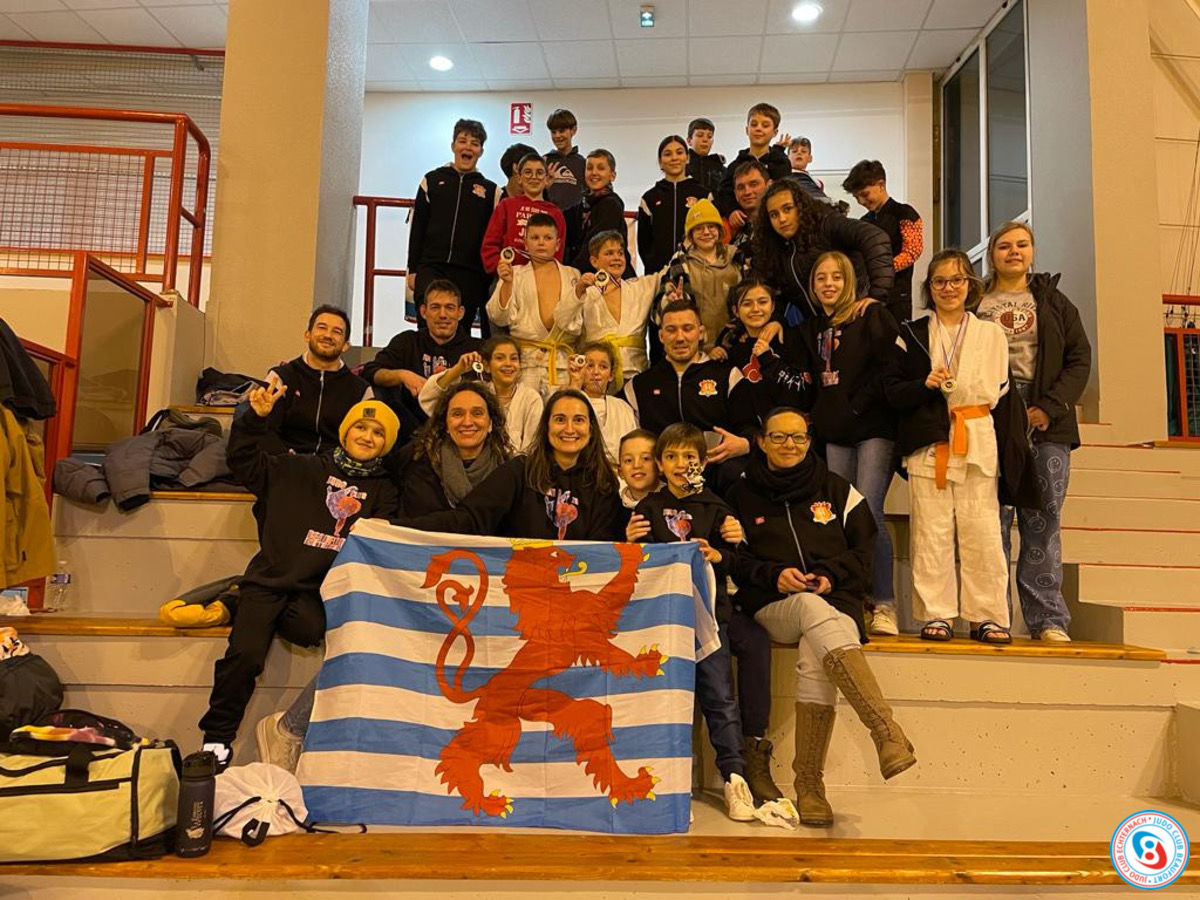 2023.02.18-19 - International Judo Tournament Audincourt (FRA)
Mir hunn dëse Weekend, zesumme mam JC Beaufort-Echternach, mam JJJC Differdange a mam JJJC CEE, um internationalen Turnéier zu Audincourt am Frankräich deelgeholl. Insgesamt gewannen eis Athleeten 8 Medaillen, dorënner 6 aus GOLD (all d'Resultater hei drënner).
Mir soen dem Organisator, dem JC Audincourt, e ganz grousse MERCI fir de super Accueil an de flotten Tournoi. E grousse Merci och eise Frënn a Kolleegen vu Befort-Iechternach, Déifferdeng an de Communautés Européennes fir de flotte Weekend an déi super Ambiance!
Felicitatiounen all eisen Athleeten an Trainer (Arnaud, Kiara, Tom)!
E grousse Merci schlussendlech och eisem Partner, Autopolis, an der Gemeng Stroossen fir hir Ënnerstëtzung an d'Mise à disposition vun de Minibusser.
____________
Nous avons participé ce weekend, ensemble avec le JC Beaufort-Echternach, le JJJC Differdange et le JJJC CEE, au tournoi international d'Audincourt en France. En tout, nos athlètes remportent 8 médailles, dont 6 en OR (voir tous les résultats ci-dessous).
Un grand MERCI à l'organisateur, le JC Audincourt, pour l'accueil chaleureux et le super tournoi. Un grand merci également à nos amis de Beaufort-Echternach, de Differdange et des Communautés Européennes pour cette belle aventure et la bonne ambiance !
Félicitations à nos athlètes et entraîneurs (Arnaud, Kiara Tom)!
Nous remercions finalement notre partenaire, Autopolis, et la Commune de Strassen pour leur soutien et la mise à disposition des minibus.
___________
This weekend, together with JC Beaufort-Echternach, JJJC Differdange and JJJC CEE, we participated in the international tournament in Audincourt, France. In total, our athletes won 8 medals, 6 of which were GOLD (see all results below).
A big THANK YOU to the organizer, the JC Audincourt, for the warm welcome and the great tournament. A big thank you also to our friends from Beaufort-Echternach, Differdange and the « Communautés Européennes » for this great adventure and the good atmosphere!
Congratulations to our athletes and coaches (Arnaud, Kiara Tom)!
Finally, we would like to thank our partner, Autopolis, and the Commune of Strassen for their support and the provision of minibuses.
___________
GOLD:
Mathieu Gryllos
Mia Schroller
Salomé Lou
Luca Dias
Balazs Szabo
Ivan Gomes
SILVER:
Adrien Devis
BRONZE:
Tom Schmit
7th PLACE:
Petros Gryllos
PARTICIPATION:
Thomas Palsson
Mateo Palsson
Amandine Voisin