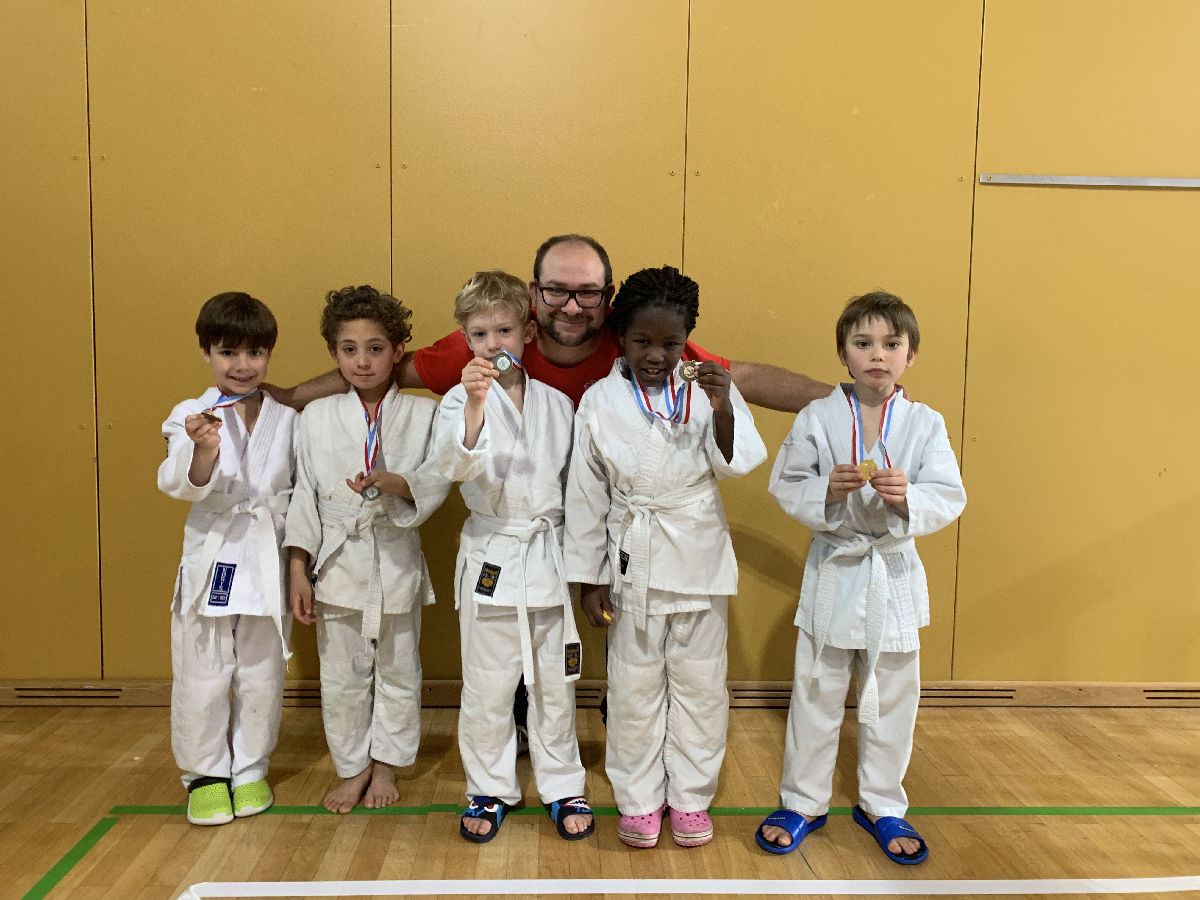 Nos plus jeunes (U9) ont montré la voie aux plus grands ! | Our youngest (U9) showed the way to the older ones!
12.03.2022 - National Judo Championships 2022 - What an achievement!
De Judo Club Stroossen war mat 44 Athleten op der Judo-Landesmeeschterschaft 2022 vertrueden, e Rekord fir de Club, deen am September 2017 déi éischt Traininger organiséiert huet.
Quantitéit statt Qualitéit? An dësem Fall net! Mat 15 Goldmedailen, 11 Sëlwermedailen an 11 Bronzemedailen gewënnt de JC Stroossen um Enn de Medailespigel an ass domat deen « erfollegräichste Veräin » vun dësem Championnat! Eng riesen Éier an e groussen Erfolleg fir eise Club.


Déi vill Traininger, Stagen a Competitiounen droen haut hir Friichten. Mir sinn immens houfreg op eis Memberen an all eis Kämpfer! Felicitatiounen! E ganz grousse MERCI geet schlussendlech un all eis Trainer an Assistenztrainer fir hir super Aarbecht, virop un den Arnaud Grisier an de Jerome Guenzi, mee och un d'Elteren an Zuschauer fir hir Ënnerstëtzung an hir Presenz.
Mir ginn Iech elo schonns Rendezvous den 30. Abrëll fir d'Equippechampionnat 2022! Schreift Iech den Datum op :-).
Den Detail vun de Resultater fannt Dir hei drënner (ganz ënnen).
Fir d'Fotoen vum Championnat ze gesinn, klickt
HEI
.
Judo Club Stroossen, eng Famill!
____________
Le Judo Club Stroossen était représenté par 44 athlètes aux Championnats Nationaux de Judo 2022, un record pour ce jeune club ayant proposé ses premiers entraînements en septembre 2017.
La quantité avant la qualité ? Dans ce cas, pas vraiment ! En effet, avec 15 médailles d'or, 11 en argent et 11 en bronze, le Judo Club Stroossen remporte le classement par club (au niveau des médailles) et est, par conséquent, le club le plus titré de cette édition des Championnats Nationaux! Un immense honneur et un très grand exploit pour notre club.
Les nombreux entraînements, stages et compétitions portent leurs fruits. Nous sommes extrêmement fiers de tous nos membres et participants! Félicitations! Un très grand MERCI finalement à tous nos entraîneurs et entraîneurs assistants pour leur excellent travail, avec mention spéciale pour nos deux entraîneurs principaux, Arnaud Grisier et Jerome Guenzi, mais aussi aux parents et spectateurs pour leur soutien et leur présence.
Nous vous donnons dès maintenant rendez-vous le 30 avril 2022 pour les Championnats Nationaux par équipe! Prière de bloquer la date dans vos agendas :-).
Le détail des résultats se trouve ci-dessous (tout en bas de la page).

Pour voir les photos du championnat, cliquez
ICI
.
Judo Club Stroossen, une famille !
____________
Judo Club Stroossen was represented by 44 athletes at the National Judo Championships 2022, a record for this young club that offered its first training sessions in September 2017.
Quantity before quality? In this case, not really! Indeed, with 15 gold, 11 silver and 11 bronze medals, Judo Club Stroossen wins the classification by club (in terms of medals) and is, therefore, the « most successful club » of this edition of the National Championships! A great honour and a big achievement for our club.
The many training sessions, camps and competitions are bearing fruit. We are extremely proud of all our members and participants! Congratulations! Finally, a big THANK YOU to all our coaches and assistant coaches for their great work, with a special mention to our two main coaches, Arnaud Grisier and Jerome Guenzi, but also to the parents and spectators for their support and presence.
We look forward to having you at the National Team Championships on 30 April 2022! Please already block the date in your agenda :-).
Details of the results can be found below.

To see the pictures of the championship, click
HERE
.
Judo Club Stroossen, a family!
____________

RESULTATER | RESULTATS | RESULTS
GOLD fir | OR pour | GOLD for:
Ricky Cotterchio-Kill (U9)
Mathieu Kinn (U11)
Billie Cotterchio-Kill (U11)
Adrien Devitt (U13)
Ismael Lustac (U13)
Ioannis Saltavareas (U13)
Ivan Gomes 2x en -60 et +60kg (U13)
Salomé Lou 2x en -57 et +57kg (U13)
Raphael Dutrop (U15)
Luca Dias (U15)
Alaric Noirot (U15)
Eliot Gorcy (U18)
Tom Schmit (Seniors)
SËLWER fir | ARGENT pour | SILVER for:
Zachary Lustac (U9)
Gabriel De Becquerort (U9)
Lustac Noham (U11)
Mia Schroller (U11)
Raphael Souto (U13)
Nathanael Souto (U13)
Balazs Szabo (U13)
Salomé Lou (U15)
Radovan Lovrits (U15)
Lora Schroller (U18)
Tatsumi Suzuki (Seniors)
BRONZE fir | BRONZE pour | BRONZE for:
Aymeric-Olivier Minyem (U9)
Odeliah Dor (U9)
Liv Burelbach (U11)
Marc Zanoni (U11)
Petros Gryllos (U13)
Quentin Fouyer (U13)
Caecilia Riedl (U13)
Raphael Dutrop (U15)
Eliot Gorcy (U15)
James Barwise (U15)
Arthur Lopez (Seniors)
PARTICIPATIOUN vun | PARTICIPATION de | PARTICIPATION from:
Errikos Marios Efstathiadis (U9 - 1er tournoi)
Timothee Barde Lopez (U11)
Frédéric-Lylian Minyem (U11 - 1er tournoi)
Roza Nazradi (U11 - 1er tournoi)
Nael Vlamynck (U11 - 1er tournoi)
Ruben Conforti (U13 - 1er tournoi)
Samu Naszradi (U13 - 1er tournoi)
Felix Burelbach (U13)
Luca Dias (U13)
Luca Theisen (U15)
Ange Leballeur (U15 - 1er tournoi)
André Souto (Seniors)
CONGRATULATION AGAIN !
THERE IS MORE TO COME !