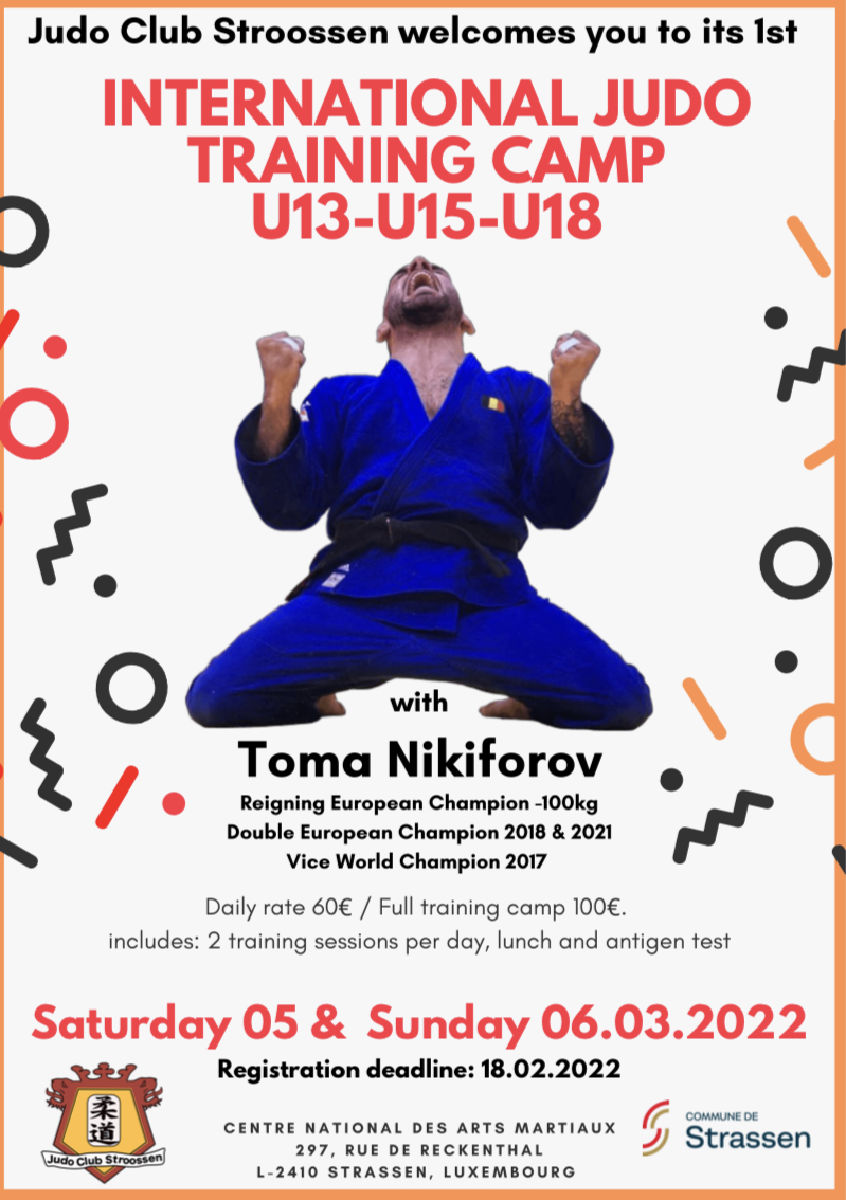 05-06.03.2022: 1st International Training Camp with Toma NIKIFOROV
Judo Club Stroossen welcomes you to the 1st International Training Camp for judokas born in 2005-2011 (U13-U15-U18) on 05 and 06 March 2022 with Toma Nikiforov, Double European Champion (2018 and 2021) and Vice World Champion in 2017.
The camp takes place in our dojo at 297, rue de Reckenthal, L-2410 Strassen, Luxembourg. It is mainly aimed at competitors.
We advise you to register now, as the number of places is limited to 80 participants. For more information, including fees, registration and health protocol, please read the attached outlines.
We look forward to welcoming you in Strassen!
___________
Le Judo Club Stroossen vous invite 1er stage international pour les benjamins, minimes et cadets (U13-U15-U18) le 05 et 06 mars 2022 avec Toma Nikiforov, Double Champion d'Europe (2018 et 2021) et Vice-Champion du Monde en 2017.
Le stage a lieu au sein de notre dojo à l'adresse: 297, rue de Reckenthal, L-2410 Strassen, Luxembourg. Il s'adresse principalement aux compétiteurs.
Nous vous conseillons de vous inscrire dès maintenant, car le nombre de places est limité à 80 participants. Pour plus d'informations, notamment sur les tarifs, les modalités d'inscription et et le protocole sanitaire, nous vous prions de lire la plaquette jointe ci-dessous.
Au plaisir de vous accueillir à Strassen !